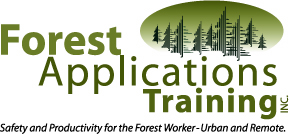 Forest Applications Training Specialists will travel to your location to conduct the training listed below. Our Instructor, Tim Ard travels all across the USA working with City, County, State, DOT, Foresters, Power Equipment Dealers, Loggers, Landscapers, Construction Companies, Students, Homeowners, etc. These two lead instructors have been in the outdoor power equipment industry for over a combined 40 years. As training specialists they lend to the participants practical insight and information focused to safety and productivity. For more information or complete outlines and agendas please contact our office today.

Click on Links for Basic Outlines

______________________________

Chain Saw Safety

IL3 OS Applications Introduction

Demonstration 5 hours

Groups of 40 or more

IL3A OS Applications Basic Outline is IL4 OS

(Must have attended Intro class)

One Day Chain Saw Safety - hands-on

12 Max participants - 6 hours

Two Day Chain Saw Safety - hands-on

12-15max - 6 hour days

One Day Storm Damage Safety – hands-on

12-15 participants max – 6 hour

(Must have completed two day Saw Safety)

______________________________

Chain Saw Sharpening

One Day - 6 hours

12 participants max

______________________________

Two Cycle Theory

IL23 Two-cycle Trouble-shooting

One Day - 6 hours

20 participants max

_______________________________

Trimmer Safety/Productivity

(Includes – trimmers, clearing and pole saw units)

One Day - 4 hours

20 participants max

________________________________

Zero Turn Mower Safety and Applications

IL13 OL ZTR Applications Basic

One Day - 6 hours

12-15 participants max

Zero Turn Mower Program

Our organization rolled out the Zero Turn Mower training program to our membership as part of two Safety Rodeo's in the spring of 2005. Due to the overwhelming positive response of the sessions, we currently offer the class as part of our core training calendar each spring and financially subsidize the program to our membership.

We feel that the Zero Turn Mower course content which includes equipment safety, operation and maintenance adequately prepares our park districts and forest preserves to operate this potentially dangerous piece of equipment. In addition, the combination of class room instruction and hands-on skill building gives operators the opportunity to practice their skills in a controlled environment.

Bill Hooker, ARM

Training Program Supervisor

Park District Risk Management Agency

(c) Copyright 2015 Forest Applications Training, Inc.