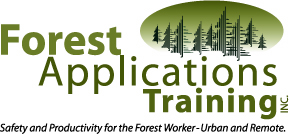 Arborist Chain Saws : Models That Fit Your Needs
www.forestapps.com
Professional chain saws are safer, lighter and more powerful than ever before.
However, the knowledge and understanding that can be gained through safety and productivity training is equally important. It is a mistake to assume that all one needs to operate a chain saw safely and productively, is very basic instruction. What an operator does not know could very well mean serious injury or death. The national average is over 100 reported chain saw related injuries in the U.S. every day! (information from a CPSC report) Experience is a good teacher, but it can be a very painful and expensive way to learn. Proper chain saw training can save your company very costly lessons, as well as reward you in terms of safer more efficient operations.

Today's tree care operations depend on state of the art chain saws to accomplish the many different tasks we are called upon to perform.

Whether a company's focus is on tree health care, utility line clearance, or tree removal, it is very important to have the chain saws that fit your needs. In recent years we have enjoyed incredible advances in chain saw ergonomics, power and performance.

An Arborist needs a small, well balanced saw that can be carried into the tree tops with relative ease. It must be light, yet powerful. It must be well balanced rugged and easy to use in awkward positions, yet it must be affordable. Numerous manufacturers offer small top handle chain saws. Husqvarna's Top Handle saw (available since early 1997) has a very high power to weight ratio, and would be a very good example of a small chain saw that will meet an Arborists needs.

Top handle saws are not designed for one handed operation. The top mounted rear handle should not be Interpreted as such. The design is for balance, maneuverability and reduced weight. These design areas are very important in pruning and removal operations, where the operator will work in restrictive positions in the tree. The top handle saw is designed with short wrist movements and extended arms in mind. It is important to reduce fatigue during tree work operations. Many cuts are being made, often in very awkward positions.
Light weight and good power to weight ratio are critical.

The Arborist that performs large limb and tree removal needs larger more powerful saws. He will need a small / medium saw that can be used in the tree
and perhaps a medium / large saw that can be used aloft when necessary. Husqvarna's model 346xp would be a good example of a small / medium saw and The model 372xp or 576xp a great medium / large saw. Compression release (Smart Start) can mean safer, easier, starting procedures while reducing operator fatigue.

These two models are also great work-horses for the ground crew, though many climbers prefer that the saws that are intended for use in the tree be saved for that purpose in order to insure continuos productivity in the tree.

If large removals are part of your companies forte, it is important to have at least one large chain saw with enough horse-power to carry a long guide bar and chain while maintaining the power needed to finish the job. Every Arborist with large tree removal experience knows the frustration of lost time at the stump due to inadequate saw power or bar length for the finish cut. The new 372xp, 576xp or the 395xp will provide the power to tackle the longer bar needs with ease.
Never operate a chain saw without an operable chainbrake, throttle interlock and chain catcher. These three important safety features are available on most chain saws today, and have been known to reduce numbers and severity of injuries during tree worker operations. Other features to look for are, anti-vibration systems that isolate the operator's handles from the engine and chain guide bar Vibration. These systems can reduce fatigue considerably. Fatigue is a major cause of chain saw operator accidents.

Always use proper Personal Protective Equipment (PPE)- Hard hat, eye, ear, leg and foot protection when operating chain saws.

Having the right saws for the job will save time, and energy. It's no secret that the right tools for the job will pay for themselves many times over. In order to insure productivity on the job, it is vital that Arborists have the chain saws to meet their needs.

For more information on products or training e-mail to: info@forestapps.com