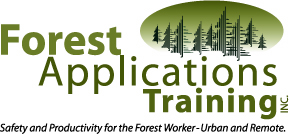 Presents...
A Complete Guide to Chain Saw Safety and Directional Felling
by Tim Ard and Mike Bolin
Photos and Video by: Laura Ard, Mike Bolin and Tim Ard
Coming soon to a computer near you!

In Electronic eBook Format .

Not bound as other books, but interactive through the latest concept in written training materials.
E-Books allow you to view text and pictures right on your computer screen.
Search text for information important to your needs in seconds.
Pinpoint techniques quickly. Some you simply click on to run short video snippets explaining the technique.
Chosen selections or the whole book may be printed for personal use right from your desk with the SP version .
Video Clips inter-twined and playable as you read the text to better explain the details and techniques. MPEG1 and Windows Media formats.

The Complete Guide is available in Microsoft® Word (.doc) and also in Adobe® Acrobat (.pdf) formats -- all on one easy to read download.

The Forest Applications eBook will be easily updated, keeping your information current. A book that's never outdated or old.

---

Standard Print (SP) Version has Standard Version includes the version only, Free copies of the Adobe Acrobat® Reader 5.0 and the Adobe eBook Reader®. Printing is allowed with this version for personal use.

Only $29.95 plus S&H

---

Printed Binder Version all the text and pictures in black and white print. Pages are three-hole punched and placed in a loose-leaf binder.

Only $39.95 plus S&H

---

Complete Version (C) has all the SP features with the addition of MS Word *.DOC file version. MS Word is required to view this version.

$49.95 plus S&H

---

Schools and other organizations - contact us for special group pricing.

---

Click Here to View a Sample Page.

How To Order? Click Here

Request More Information? Click Here

| | |
| --- | --- |
| ISBN: | 0615319238 |
| ISBN13: | 9780615319230 |
Over 200 Pages, 20 chapters of up-to-date interactive information...
Introduction Chapter 1 - Safety in Planning Chapter 2. The Need for Personal Protection Equipment Chapter 3. Choosing the Right Saw for the Job Chapter 4. Starting and Using Your Chain Saw Chapter 5. Chain Saw Maintenance—A Key to Safety and Profit Chapter 6. RDT—A Maintenance System for Professionals
Chapter 7. Saw Chain, Guide Bar, and Drive Sprocket Selection and Maintenance Chapter 8. Formulating the Felling Plan Chapter 9. Understanding Felling Techniques Chapter 10. Fiber Pull and Splitting Chapter 11. Tree Height Determination Made Simple Chapter 12. Determining Side Lean
Chapter 13. Using Directional Felling Techniques on Small Trees Chapter 14. Wedging to Overcome Back Lean Chapter 15. Dealing With Hanging Trees and Problem (Hazard) Trees Chapter 16. Spring Poles—How to Safely Deal With Them Chapter 17. Limbing and Bucking Chapter 18. Chain Saw Safety in Firewood Applications

Chapter 19 Video Clips and Scripts

Chapter 20 Links and references
*Pricing for an introductory time only. Price does not include shipping and handling and is subject to change.
© 2010 Forest Applications Training, Inc.