Saw Mittens
By Tim Ard
Forest Applications Training, Inc.
Gloves are an important part of personal protective equipment (P.P.E.) when working, especially with the chain saw. Many people I speak with say they do not use gloves because they have a hard time working with them. They don't fit correctly, hard to hold things and gloves fatigue their hands. Another thing is to find gloves that will last long enough, they are expensive.
Over the years, with chain saw operators, the left hand has been in the top two laceration or cut areas when accidents occur. It's common with the injuries sustained from a chain saw for the left hand to get in the chains' rotation. I hear many stories of hand injuries happening when operators are doing maintenance or sharpening their saw chain too. They happen when operators don't keep both hands on the handles when sawing. Hands are susceptible…
Gloves won't prevent all hand injury from happening but they can reduce the severity in many of them.
I have been trying a glove design over the past few months that is awesome. I have been using mittens with chain saws since Soren Eriksson introduced me to them in the 80's. Mittens have several advantages for the saw operator.
<![if !supportLists]> · <![endif]>You can get a better grip. Try pressing on your arm with fingers loosely placed (Like how it would be with cotton or leather between them with finger style gloves). Now try it with fingers together. It seems amazing; you can apply more pressure with your fingers together. One person told me that's because your hands are designed that way. Mittens allow better grip because of this.
<![if !supportLists]> · <![endif]>The back of the left hand has chain saw material layered on the mitt. This can give you some reaction time from the chain should you need it.
<![if !supportLists]> · <![endif]>Index finger is still separated on the right hand for chain saw trigger operation.
<![if !supportLists]> · <![endif]>The palms need to be of leather for durability and abrasion resistant. Goat skin is used in these high quality work gloves. It has better characteristics with moisture. They dry without becoming hard and brittle.
<![if !supportLists]> · <![endif]>Should they need to come off quickly it's possible. They won't bind on your hands quite as much as finger styles. They slide off much easier.
<![if !supportLists]> · <![endif]>They also work very well with winter liners for cold operations.
Some gloves and mittens I have tried don't last a week. These are the toughest and longest lasting I've used in years. I bought them in March and now closing in on the end of the year they are still usable. I have machine washed them several times, burned them on mufflers, cut them filing and the seams and materials have held up amazingly well. I don't use them as hard and regularly as some of you would but I will assure you they will, from my experience; hold up superior to most gloves out there. You won't go wrong with these mittens if you give them a try. I just received a new pair to start the year with…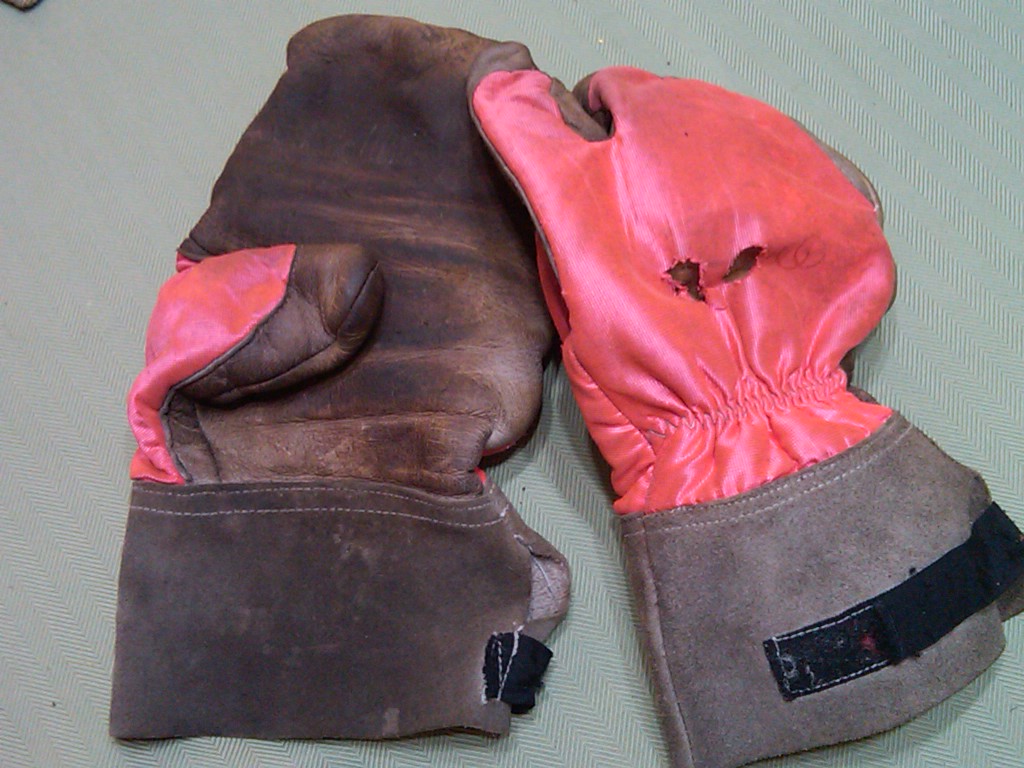 The saw mittens are available in four sizes (medium fits me perfect). You can follow the link to Gransfors for more information and to purchase.