Storm Damage - Hanging Trees
by Tim Ard, Forest Applications Training, Inc.

Hanging trees whether, uprooted or broken, can present a unique and very hazardous situation for a chain saw operator.
These situations should be approached with caution and a very clear and precise felling/removal plan. The process should begin however, with the same five-step information process of Hazards, lean, escape, hinge and cuts, but it should also incorporate dow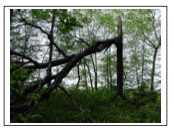 n and back pressure information steps of limbing and bucking a downed tree.

Special considerations are, or could be attributed to the root structure or lack of fiber in a hanging tree situation

.

Often a hanger is an uprooted tree. The roots on one side of the tree have been broken, leaving the other, or under-lean side of the tree still intact. The under- lean side of the roots may also be under compression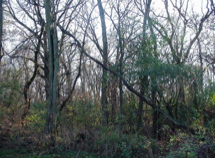 and the pressures could be similar to that of a springpole.
Hangers may also be older or rotting trees, which have broken and fallen into another adjacent tree. Fiber sometimes rots away on the leaning/underside of the tree and the roots are stretched and broken on the other. In this case, caution should be observed in that the fiber is solid enough for control.
In all cases, a saw operator must be thorough in information taking. The top, or limbs in the tree, may also be broken or rotted to the point that stability during the work could change quickly.
Storm Tree Plan Information:
1. Hazards
2. Side to Side / Roll or Twist
3. Up and Down Pressures
4. Back or Forward Pressures
5. Individual Cut
One very important thing about the fifth step is you must always go back to the top four informations after and or before making another cut. Often when one cut is made in a plan the trunk or limb moves, necessitating the need for a re-plan. It only takes a few seconds to re-evaluate the situation and make a new plan but if you do not - the chances of an unplanned event of movement or saw binding is highly probable.
This and more on Storm Damage situations can be found in our Forest Applications eBook available on our website eStore at www.ForestApps.com or from Barnes and Noble online. The techniques in detail will be discussed and viewed in our upcoming eVideo module. For more information contact us at info@forestapps.com .